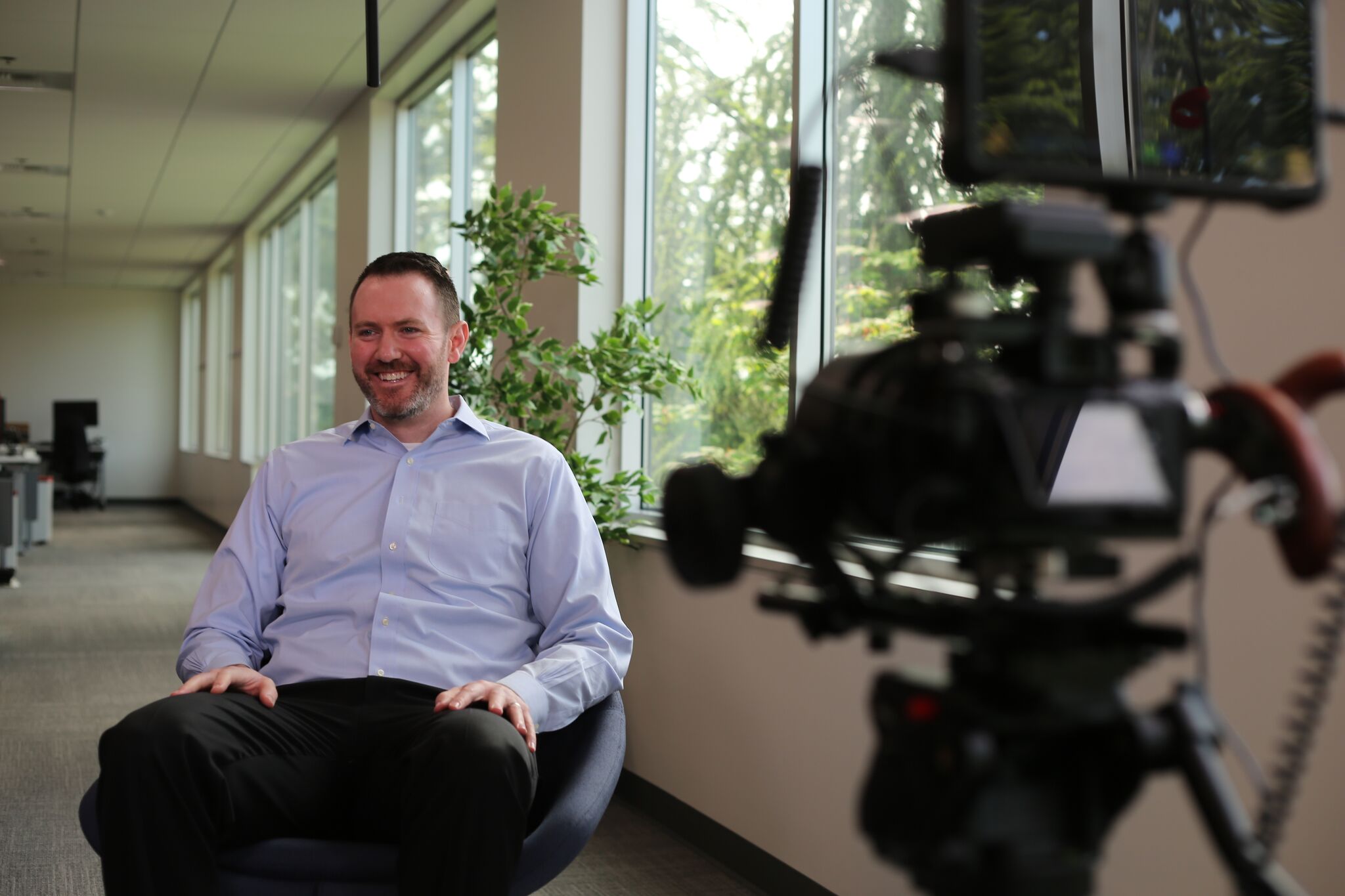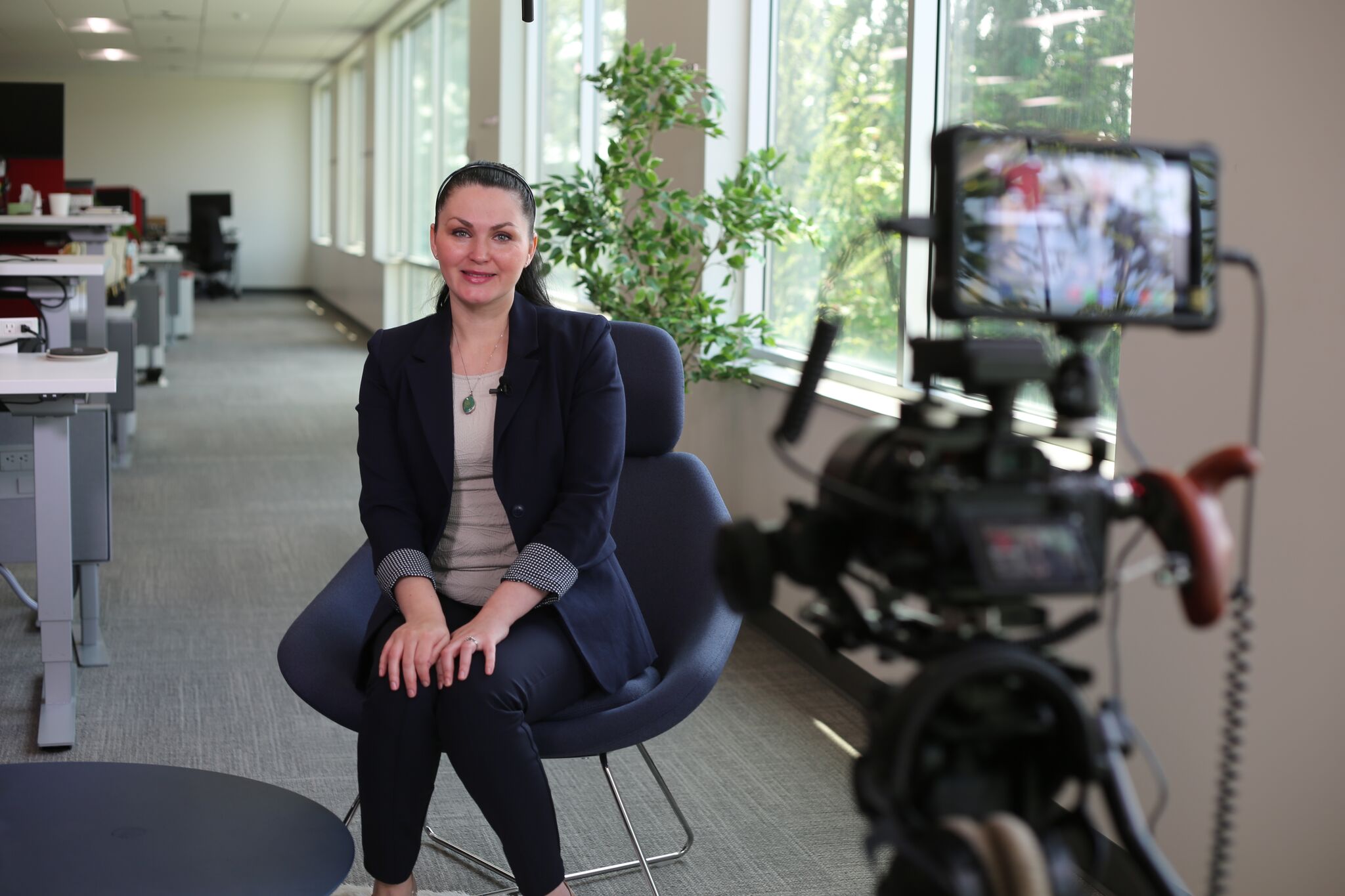 AD: Quiet on set
<quiets down>
AD: Sound Ready?
<sound replies 'ready'>
AD: Camera Ready?
<camera replies ready>
AD: Roll Sound.
<sound replies sound rolling>
AD: Roll Camera.
<rolling>
Director: When you're ready.
"When I'm ready." The phrase makes me smile. I've been ready for this a long time.
I look directly across from me at Thomas VanBuskirk, our incredible VP of Product Engineering. Tom has that wonderful mix of anticipation and curiosity on his face betrayed only by a skosh of that familiar, "What the devil have I let Pearce talk me into?" expression, too. His work ethic and commitment to the people and mission of our company has interrupted his Saturday morning, including preparations to take his two young sons and a friend to the Seattle Mariners day game at Safeco Field. His 6'6" frame is seated comfortably in the contemporary lounge chair while in the other exact same chair, my feet dangle above the carpet. I recall Tom was a successful relief pitcher in college once drafted by the Texas Rangers. He is used to answering questions. He's good at it. Tom provides authentic, articulate responses even seasoned politicians and CEOs could only dream of mustering on the fly. I know he's ready, too.
We're in our company's newer building, part of the team challenged with creating our organizations first ever corporate video in our almost 20 years as a business entity separate from our sister company, SSA Marine, and our holding company, Carrix Inc. There are many Tideworks stories to tell in this medium, to get to a second opportunity, we know we must get this first one right.
A short week ago we were conducting actual screens tests of a dozen willing Tideworks peers before the final shoot of our company video. They were all exceptional. No really. In my life before software product development I was a writer, producer and voice talent for radio and television commercials and other broadcast endeavors. I'm familiar with the creative process involved in the development of a top notch industrial video. I know talent. It was now my job to have conversations with my colleagues, determining natural paths that would lead us to why some of us have been here for so long or why newer employees left substantial positions at more globally recognized organizations to join us. Our small but mighty marketing squad has incredible footage and numerous employee quotes coming out of our Tideworks ears for a long time to come.
Tom is the first of five long-form interviews we'll tape today. Our talented production crew from The Wave Still is behind the camera and all other facets of our endeavor. I trust them completely and now it's time to trust myself.
Tom and I talk. As he speaks I listen to his every word. He's describing our company culture, our successes and challenges in ways I had dreamt of us growing into when we began this Tideworks journey over 20 years ago. He paints the pictures of how we want to evolve next with stunning clarity. He's a wonderful leader and here we are, the two of us talking, enjoying each other's company, thoughtfully and simply having fun.
When his interview is over some 40 minutes later, I thank him the very best way I can and our conversation easily transitions to the rest of his day; what awaits he and his kids, his family. I take a sip of water, proud of the words he's spoken, proud knowing I am part of his Tideworks family.
I wave and signal to Vikki who has ferried over early in the morning from the small island of Vashon, just a 20-minute crossing from Seattle. She ushers over our next interview subject. This time it's Alyona Richardson. She had already knocked us out of our seats in her screen tests. Today is no different. She is strong, a business force to be reckoned with topped only by her gentle smile.  Again, we chat. Once again, I'm struck by how much I'm simply enjoying what she has to say. Typically, in an interview, I'm focused on facial and verbal cues. Studying what I may need to alter in my line of questioning and ask next to get the most usable responses matching the story we want to tell. Today is different.
I notice as she speaks, she's hitting upon the same themes as Tom, just in her own, uniquely Alyona way.
Another 40 minutes flies by. As Alyona and I wrap, I hear the director and his crew behind me gasp in that familiar, "This is great stuff," way. They're right.  She's incredible. It just continued.
From Yessica Gonzalez, to Michele Evans and ending with my own "little" brother, Mitch Hall, who joined us on our mission to create and take great software products and services to the very niche marine and rail terminals market a mere 3 years behind myself.
As my brother speaks, his expressions of the now familiar theme of family in our organization is of course almost comical. We are truly family. But it's more than that. It's true there are mother, fathers, sons and daughters, brothers, sisters, husbands and wives among our workforce. And yet, it's the family of our corporate choosing which feels as strong a bond as any blood or marriage.  Mitch is not my only brother at Tideworks, he's just the only one with whom I share parents. And something…something about what all our interview subjects have said this day has struck some cord in our production crew. The leader is the brother of one of our stellar Business Analysts. He'd always heard we were a different sort of place to work, but only through the story telling of his own sister. Today he heard five more people describe our corporate culture for ourselves and our customers in similar, familial terms.
Just the other day I'd read a brief article in a 2014 edition of the Harvard Business Review. It argued "Your Company is Not Your Family." The author encouraged employees to keep their work life separate from their personal lives. I don't mean to judge anyone within our organization or others who choose to live and work this way. Diverse approaches to business is indeed one of our company's strengths. And still, there's no denying the converse can also be true. 20 years strong and still growing, Tideworks is living proof.
As the set is broken down around us, the director and his amazing cameraman give hugs all around. I can tell after spending the last few weeks with us developing a storyline, creating incredible vignettes and what would become brilliant post-production graphics, they feel it and I'm thrilled they are now part of our Tideworks family, too.